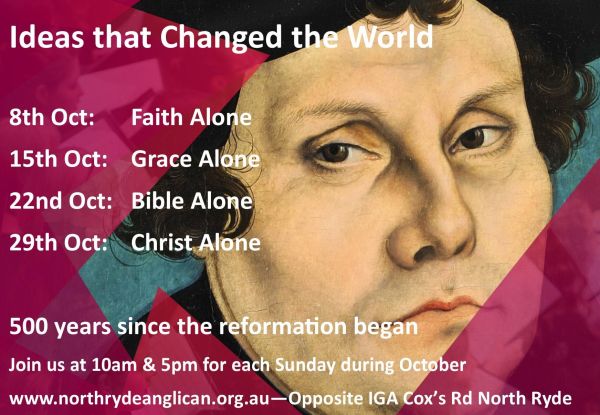 8th Oct          Reformation: Faith Alone
15th               Reformation: Grace Alone
22nd              Reformation: Bible Alone
29th               Reformation: Christ Alone
Join us at church every Sunday in October 2017 as we work towards the 500th Anniversary of the Reformation. Find out what the word 'protest' means in the word 'protestant'.
Our church gatherings are at 10am and 5pm. 
What to wear: Casual. What to bring: No need to bring anything, but an electronic device maybe helpful. What happens? We hear an address, a bible passage is read out, we sing songs. You won't be asked to read the bible aloud or to pray in public.
Our 10am meeting includes kids church and a youth program. It concludes with morning tea.
Our 5pm meeting includes a youth program, and finishes with an optional $3 dinner.
Love you to Join us!