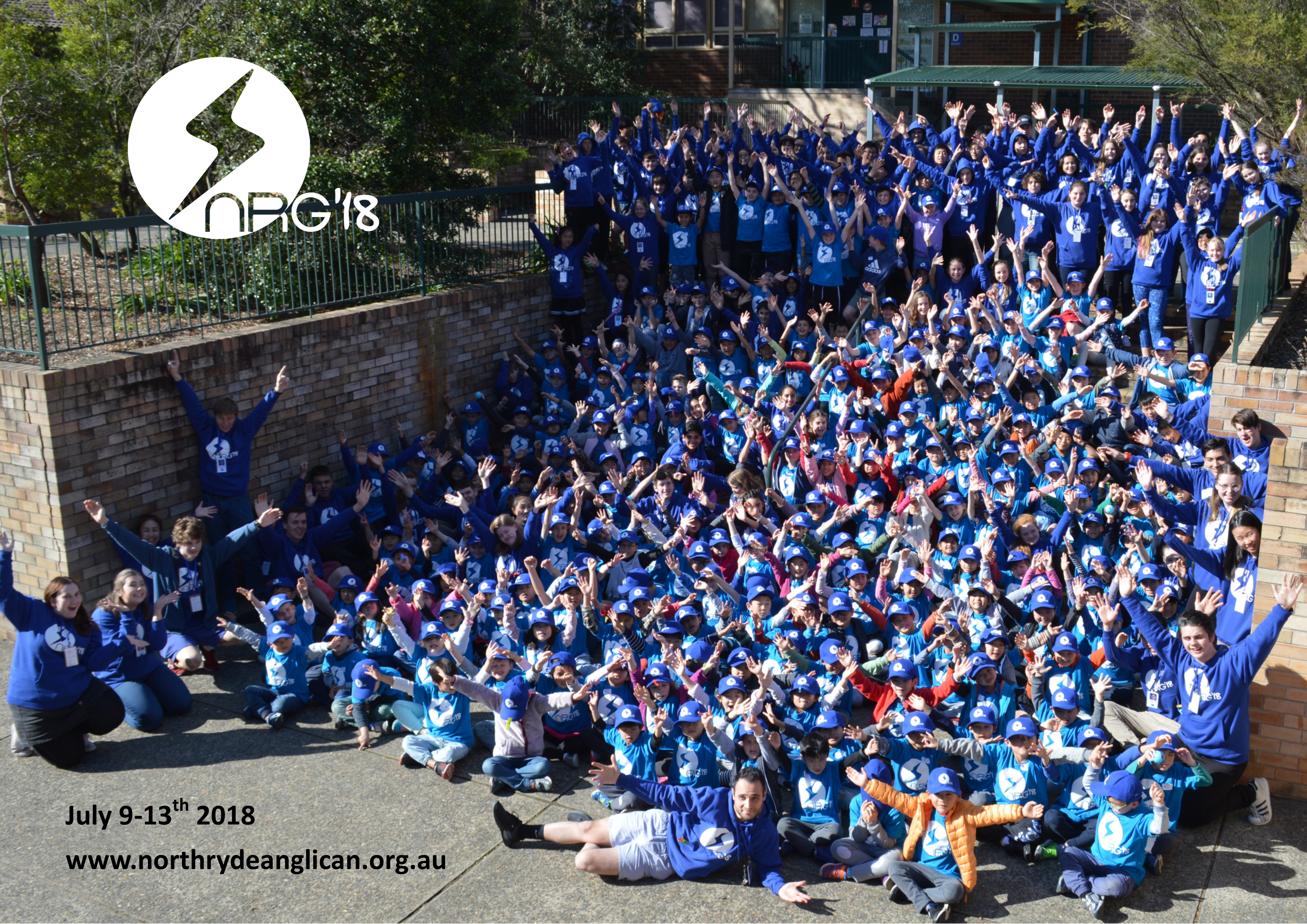 NRG Day 5 Blog - Friday 13th July 2018
As NRG 2018 comes to a conclusion, our team still had one last action gill-ed day of fun and praise.
The anticipated ending of Captain Perry Scope and Professor C. Urchin's adventure wrapped up today as they continue to find Atlantis, while Ellyce kelp-ed Zach get off the sin chair. The kids helped Munch learn today's colour, gold, which represents spending eternity in heaven with God and came up with some wonderful actions for our weekly verse, Romans 6:23. The morning rounded off with a game of 'fill the bucket' where first round victory went to the Year 1 Boys and second round going to the Year 4 girls, congratulations guys!
During our electives the Nerf crew played a match of territories, as well as revisited their favourite games of the week. The craft team had some foil-applied stickers which they used to make bookmarkers and cards while the cooking guys baked and decorated a massive ocean-themed cake. The computers group continued their tournament from yesterday and the sports teams played some matches of touch footy capture the flag.
Sarah also told our team one of the most important tips for being a great leader, to 'be ready to learn', to keep an open mind and like Spongebob, absorb the knowledge surrounding you.
Concluding our amazing week, the leaders organised a fair for the kids with a wide variety of stalls including a haunted house, a drawing competition, a sponge throwing arena and a plethora of prizes. Alongside the fair was a parent presentation featuring our favourite songs, Captain Scope & Professor Urchin and a review of what we've learnt during the week. Additionally, a video presentation of the dance and drama elective's fabulous work was shown receiving a round of a-claws from the parents. The leaders also worked extremely hard helping clean up around the church and we finished in record time, thank you so much guys, you're all shiny starfishes.
NRG Blog Day 4 - Thursday 12th July 2018
The seas were foggy this morning on day 4 of NRG but our vision was crystal clear as the lighthouse continues to guide us.
The adventures of the Captain and the Professor continued this morning, encountering a fearsome creature as they perilously pursue Atlantis. Ellyce also demonstrated how Jesus cleanses us by explained that today's colour, white, represents how he washed away our sins. They also practiced their balancing skills with an egg-and-spoon race where ultimate victory went to the Kindergarten Boys team, congratulations to them!
Going into the electives, the crafters finished off their stunning designs from Tuesday, while the drama team begun filming their play for tomorrow's krill-ing presentation. The dance team finished off their performance and are ready to splash around tomorrow, while the computer group befriended one another through a Super Smash Brothers tournament. The nerf crew practiced their aim on a crafty shooting range and the sports team warmed up with a game of Pacman before diving into some matches. Finally, the little chefs made some Australian staples, warm vegemite scrolls and delicious chocolate crackles.
After running around in a wild game of Silver Spoon, Sarah taught our young leaders that no matter the circumstances, they can always turn to God for help. Afterwards, Joseph explained to them the two ways of living our lives, either our own way, or the righteous way of God, which is achieved through following Jesus.
Our destination is just around the corner as another great day of NRG ends. However, there is still a bit of a wave to go, with another full on day planned tomorrow that is flooding with stalls, games and excitement.
NRG Day 3 Blog - Wednesday 11th July 2018
It was another great day of NRG 2018 today and as we reach the middle of the week there is still no sign of anyone slowing down.
Ellyce explained to the kids that God has a plan for everyone, just as she had a plan to dress her dog up as a lobster, while Captain Perry Scope swam into some trouble as his submarine stopped working. Our fuzzy friend Munch had some trouble getting up this morning but our team woke him up and explained to him that today's colour, red, represents Jesus dying for our sins. Once again, the group showed off their great communication skills by playing a fast-paced game of tunnel ball.
Splashing into the electives, the dance crew flawlessly recited their moves from yesterday, while the craft group painted with pasta and made a mess with some clay. The computer team had a great time relaxing while the sports team shot some hoops with basketball and netball. The nerf squad harmonised with some teamwork games while the drama guys started practicing the second half of their play. Finally, the cooking team got fired up, baking some banana bread and creating a spin on the classic sausage rolls, 'sausage mummies'.
Sarah continued to perilously teach the crew how be great leaders by explaining to them the fin-ificance of teamwork which was put to the test in an intense game of dodgeball. Afterwards, Joseph told everyone the secret on how to fit an entire Big Mac in your mouth, but more importantly, he explained how Jesus proved that he is the true son of God through his resurrection.
The seas were calm and clear today as we cruise through another perfect day of NRG. Looking out the porthole, we've just past the halfway mark but there's still plenty more fun as the week continues.
NRG Blog Day 2 - Tuesday 10th July 2018
The oceans were chilly this morning at NRG day 2 but the kids quickly warmed up by the wide assortment of morning games that our wonderful leaders organised.
Our lovely storyteller Ellyce told the kids about how sin impacts our lives as one of the leaders, Zach, got stuck on the sin chair, showing us the impossibility of escaping sin. We regrouped with the captain and the professor who ran into a couple of fish-ues, while the team told our friend Munch about how the colour black can represent sin. Everyone also participated in a memory game, where they tested their accura-sea by successfully reciting Romans 6:23. Afterwards, the kids engaged in an action-packed sack race, where victory went to the Year 3 Girls team. Congratulations to them!
During the electives, the drama group started learning the play they will perform at the end of the week, while the dance squad practiced the moves they learnt yesterday, started some new ones and cooled down with some f-interesting games. The sports teams got into some proper matches of soccer and netball, while the nerf group learnt to work as a team with some games of capture the flag and king of the hill. Our crafters learnt some papier-mâché skills, utilising them on some balloons which will turn into hot air balloons or animals later this week. Finally, the cooking team created some delicious Vietnamese rice paper rolls, as well as some coconut chocolate truffles for dessert.
As for our junior leaders, Sarah continued to suf-fish-ently train them into becoming fantastic leaders by teaching them how to take initiative in their actions, while Joseph reminded them about how Jesus washed away our sins.
After another wonderful day of NRG, all of the kids and leaders were exhausted from an exhilarating session of games and praise. The best way to phrase it is to say it went swimmingly.
NRG Day 1 Blog - Monday 9th July 2018
NRG IS FINALLY HERE!!!
It's been a full year of excitement and anticipation but it's time to set sail as the Ocean Themed NRG 2018 has finally kicked off.
The kids dived straight into the action, making new friends in their huddle groups and joining in the adventures of Captain Perry Scope and Professor C. Urchin. Following that was a wonderful tale by our storyteller, Ellyce, about what happened during the days it took for God to create our world. The kids also participated in a classic game of boy's verses girl's tug-of-war, where the scores were evenly split across the genders. Our awesome leaders were just urchin to get into a game as well, with the victory going towards the boys. As usual our fuzzy friend Munch made a late appearance but the kids brought him up to speed by reminding him that God made our world perfect.
Shifting into the electives, the Drama team warmed up with a variety of games like bus stop and space jump, while the computers group expelled some leftover energy with NBA and Roblox. Drawing inspiration from Ellyce's story, the cooking crew baked some earth shaped cupcakes, while the sports team kicked off their week with some matches of soccer, netball and basketball. Our dancers stretched up and begun learning the moves for their grand performance at the end of the week, while the nerf group loaded up and fought on the battlefield in a game of team elimination. The leaders did a krill-iant job at helping set up these electives, supervising the younger kids and encouraging them to join in all the fun.
Just like our world, the first day of NRG went perfectly, but it's not over yet as the ship has only just left shore. There's plenty more fun and excitement to go around as the week continues.
NRG Training Day Blog - Sunday 8th July 2018
THE WAIT IS FINALLY OVER PEEPS!!!
With the Ocean themed NRG just around the corner, the only thing left to do is to stop seahorse-ing around and whip our young leaders into shape to prepare them for the challenging week ahead.
Our team reunited with old friends and created new ones, while adjusting nicely into their groups and tasks. There responsibilities were clearly outlined as they learnt how to be outstanding role models, efficiently handle the various electives, created entertaining games to get the kids involved and showed us how to boogie like a superstar-fish with their awesome dance moves.
Our hoodies are on, pictures have been taken and the atmosphere is flooding with infinite exhilaration. With clear skies and plenty of sunshine planned, it's looking like a perfect week to teach kids about the glory of our Lord. I can guarantee you, it will be turtle-y amazing.